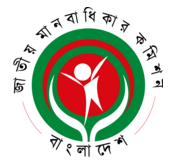 National Human Rights Commission Bangladesh
Mandate
The Commission was established to play a significant role in establishing a culture of respect for Human Rights with the co-operation of all concerned including the civil society, the public and private organisations.
---
Functions
Education: The Commission has a mandate to raise awareness of Human Rights issues through research, seminars, symposiums, workshops, and through any other means and publish the results of such research.
Investigation of any allegation of Human Rights violations received from any individual or quarter. Alternatively the commission itself can initiate investigation into any incident of a rights violation.
Monitoring: The commission has a mandate to investigate particular Human Rights violation allegations brought forward by citizens or discovered through the Commission's own monitoring.
Settlement Facilitation and Recommendations to the Government: If a Human Rights violation has been proved, the NHRC can either settle the matter or pass it on to the court or relevant authorities.
Mediation in Human Rights disputes.
Conciliation in Human Rights disputes.
---
Contact Information
Email: info@nhrc.org.bd
National Human Rights Commission
BTMC Bhaban (8th Floor)
7-9 Kazi Nazrul Islam Ave, Kawran Bazar,
Dhaka-1215, Bangladesh
Phone PABX # 88-02-55013726-28
Website: www.nhrc.org.bd