Guidance on Inclusion: Transgender People in Sport
18 June 2019
The Australian Human Rights Commission has launched national Guidelines for the inclusion of transgender and gender diverse people in sport.
The guidelines which were developed in partnership with Sport Australia and the Coalition of Major Professional and Participation Sports (COMPPS), provide information on the Sex Discrimination Act 1984 (Cth) and on creating and promoting inclusive environments in sport at all levels across Australia, from community to elite.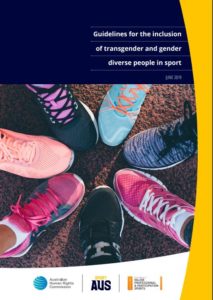 To develop the guidelines the Commission consulted with a wide range of sporting stakeholders, including transgender and gender diverse participants across a variety of sports and competition levels. Speaking at the launch of the guidelines, Sex Discrimination Commissioner Kate Jenkins said:
Unfortunately transgender and gender diverse people are sometimes excluded from sport or experience discrimination and sexual Cover – Guidelines for the inclusion of transgender and gender diverse people in sportharassment when they do participate.

While some reported positive experiences of inclusion, others described how they had been excluded from the sports they loved because of their sex or gender identity.

Some spoke of disengaging from sport during their transition journey because of their concern about how they would be treated.

I look forward to sporting organisations using these Guidelines to take steps to encourage the inclusion of transgender and gender diverse people in their sport.
---
Sport Australia CEO Kate Palmer said sport "must be safe and inclusive for all."
It must take strong, proactive leadership to stand up against any attitudes or behaviours that lead to discrimination in sport, so I urge every sporting organisation to use this resource as a guide to make your sport more inclusive," Ms Palmer said.

Every single person involved in Australian sport can play an important part in being more inclusive.
COMPPS represents some of Australia's biggest sports, including 9 million participants and 16,000 clubs.
---
COMPPS spokesperson Craig Tiley urged all sports to engage with the guidelines.
As custodians for our sports, we all need to embrace and promote the importance of diversity and inclusion so that sport better represents individuals, communities and Australia as a whole,
Mr Tiley said.
---