Australia: National Anti-Racism Partnership and Strategy
26 October 2016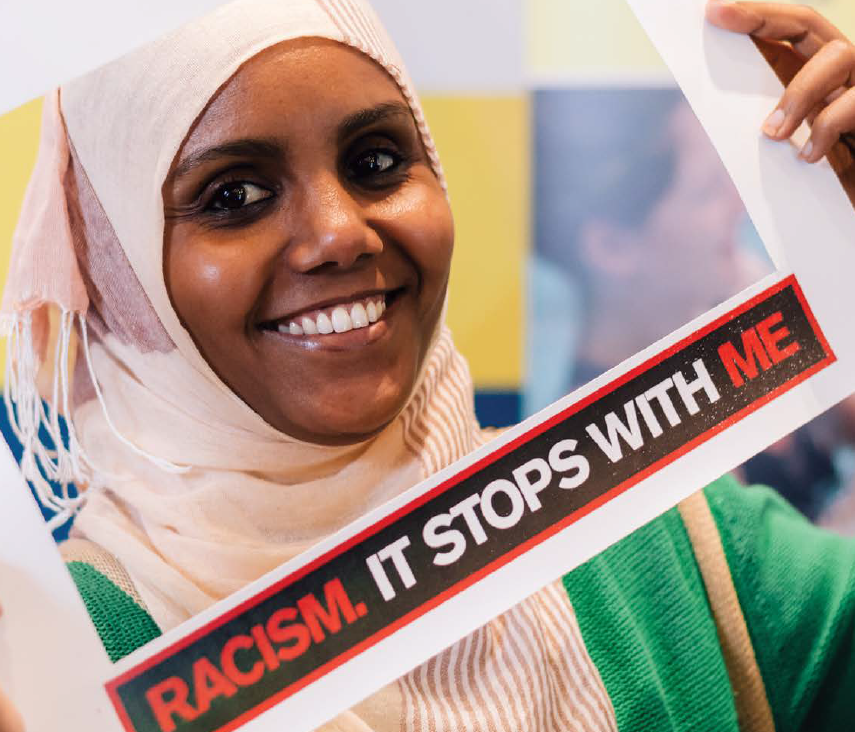 The Australian Human Rights Commission is the national human rights institution of Australia. Established by parliament in 1986, the Commission marks its 30th anniversary this year, as it continues to work towards an Australia in which human rights are respected, protected and promoted.
As part of its mandate, the Commission has had a long standing commitment to combat racial discrimination. The Commission includes a statutorily appointed Race Discrimination Commissioner. Additionally, the Commission has a legislative mandate to investigates complaints under anti-discrimination legislation (Racial Discrimination Act 1975 (Cth)). Under its complaint handling function, the Commission considers matters of alleged discrimination on the basis of race and racial hatred. The investigation and conciliation service provides a free and impartial mechanism for parties to resolve complaints relating to alleged racial discrimination without needing to go to a court. Many of the complaints resolved through our investigation and conciliation service go beyond individual compensation and often include systemic outcomes such as anti-discrimination training or changes in policy.
This legislative framework forms an integral part of the Commission's work in combating racism and prejudice. In addition, the Commission has also sought to address the broader social norms that can lead to racism and prejudice. This has been done by empowering people to address racism themselves.
Since 2012, the Commission has administered the National Anti-Racism Partnership and Strategy (NARPS). This partner-based strategy aims at creating awareness of racism and its effects on individuals and the broader community. The NARPS also aims to identify good practice initiatives, and empower communities and individuals to take action to prevent and reduce racism and to seek redress when it occurs.
The Strategy is informed by the following key principles:
Building empathy and promoting dialogue about racism;
Focusing on changing behaviours as much as changing attitudes;
Addressing institutional or organisational racism and involving a range of coordinated interventions, which are supported by management;
Adapting strategies to different settings and audiences, including local settings;
Using complementary strategies and working at multiple levels, including at the individual, organisational, community and societal levels;
Engaging with people with relatively moderate racist views, rather than those who are particularly intolerant; and
Targeting anti-racism initiatives towards priority areas, including workplaces, education and sport.
The National Anti-Racism Partnership and Strategy achieves its objectives through a series of strategic projects designed to reduce racism, support diversity and build social cohesion in priority areas.
---
'Racism. It Stops with Me' Campaign
Crowd of people holding racism it stops with me bannersThe 'Racism. It Stops with Me' Campaign is aimed at empowering communities and individuals to take action, whether it is an experience they have had personally or been a bystander to such behaviour.
Supporters of the Campaign have each been asked to endorse the Campaign publicly, promote the Campaign through their communication channels and identify activities that their organisation could undertake to support their stance against racism. Since 2012, 439 organisations have been involved in supporting the Campaign.
The Campaign has been an effective way of empowering people to combat racism and prejudice. Of the supporters surveyed, 93% informed their staff and clients of their support for the Campaign. 58% of surveyed supporters used the Campaign to initiate anti-racism policies or training within their organisations.
These figures are reflective of the Commission's approach of providing assistance to supporters so that they can address issues of racism and prejudice within their own organisations.
See: https://itstopswithme.humanrights.gov.au/
---
RightsED education resources on racism and race relations
Cover photos for RightsED resourcesThe Commission developed a suite of education resources for students in Years 5 to 10. These were designed to provide teachers with clear, engaging materials on racism and race relations in Australia. They include lesson plans and a range of classroom activities.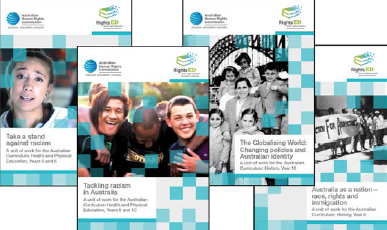 See: https://www.humanrights.gov.au/our-work/education/publications/rightsed-tackling-racism-australia
---
Workplace Cultural Diversity Tool
Workplace Cultural Diversity Tool Cover imageThe Workplace Cultural Diversity Tool is a free online resource offering employers practical support to build and manage culturally diverse workplaces. The tool was developed to offer practical steps to effectively manage a culturally diverse workforce and let organisations assess themselves against 30 measures of competence. The tool also supports employers that are considering a focus on cultural diversity and to help those already committed to diversity move towards best practice.
See: https://www.humanrights.gov.au/our-work/race-discrimination/projects/workplace-cultural-diversity-tool
---
Anti-racism and unconscious bias training
The Commission developed a training program to improve the way government service providers deliver services to Aboriginal and Torres Strait Islander people. This was done by building awareness and understanding of the way individual and systemic racism impacts on individuals and communities.
---
What You Say Matters resources for young people
The Commission developed a suite of online resources using the What You Say Matters tag line. These resources focus on the questions most commonly asked about racism by the young people surveyed. In addition to the online resources, a music video named What You Say Matters has been created and posted on YouTube.
See: https://itstopswithme.humanrights.gov.au/resources/what-you-say-matters
---
National forum on police diversity training
The Commission partnered with the police force to host a forum on diversity training in policing. The forum aimed to identify and map diversity training in police jurisdictions and develop a common understanding and framework of police capabilities.
---
Building social cohesion in our society
The Commission has developed a resource to help local government better understand their communities. The resource also provides information on how to prevent and respond to incidents of racism or conflict between groups if they arise.
See: https://www.humanrights.gov.au/our-work/race-discrimination/projects/building-social-cohesion-our-communities
---
Early childhood resources
Cartoon image of children in a circleThe Commission has developed resources for early childhood educators on cultural diversity. These resources will assist educators to encourage respect for cultural diversity and tackle racial prejudice in early childhood settings.
See: https://www.humanrights.gov.au/building-belonging-toolkit-early-childhood-educators-cultural-diversity-and-responding-prejudice
---
Sporting activities
Racism it stops with me banner being held by sports peopleThe Commission is currently working on a number of initiatives in partnership with a range of national sporting codes. In particular, the Commission has been working with the NRL and the AFL Players Associations to address racism and support cultural diversity in sport.
The National Anti-Racism Partnership and Strategy is a robust approach to combating racism and intolerance, through the development of partnerships both with the government and with the community. An evaluation of the Strategy was conducted in 2015 and can be found at https://www.humanrights.gov.au/our-work/race-discrimination/publications/national-anti-racism-strategy-and-racism-it-stops-me
The Commission will continue to lead the work of the Strategy as it enters its second phase, in order to address racial discrimination and racial hatred wherever it arises.